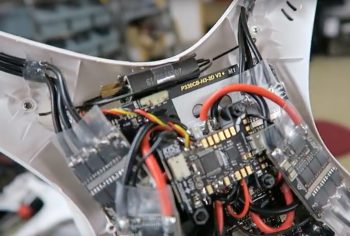 Steele Davis a rendu public un guide pour réaliser un DJI Phantom, celui que vous avez pu découvrir dans la vidéo 28 Drones Later. En voici les composants :
Kiss FC
ESC Kiss 30A
Récepteur FrSky X4R SBus
Moteurs Lumenier 2206 à 2350KV
Caméra FPV Runcam Swift
Emetteur vidéo ImmersioRC 600 mW
Plaque de distribution Lumenier Small PDB
Coque de DJI Phantom 2
Une jolie réalisation qui se pilote comme un racer, sans doute avec un peu plus d'inertie – ne vous laisse pas abuser par l'apparente simplicité des vols de la vidéo, n'oubliez pas que Mr Steele fait partie des meilleurs pilotes de la planète… Il a réussi à faire en sorte qu'on ne s'aperçoive de rien en regardant ce Phantom, même la nacelle est simulée !
Steele Davis has released a build guide of his DJI Phantom, which is undoubtedly the "world's fastest DJI Phantom." Here's the components that he uses:
KISS FC
KISS 30A ESCs
X4R SB Receiver
Lumenier 2206 2350kv motors
Runcam Swift
Immersion RC 600mW VTX
Lumenier Small PDB
The DJI Phantom 2 Shell
Truly a sleeper build! He even makes his own gimbal out of foam to make the DJI Phantom look more inconspicuous from a distance. Check out the video below on how he builds it and subscribe to his channel!