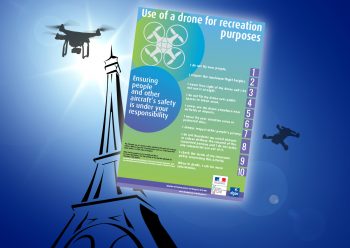 [english version scroll down below] A Paris, les quelques pilotes de drones que nous avons surpris en train de faire voler leur machine étaient tous des touristes étrangers, principalement américains et chinois. Ce n'est pas étonnant, puisque la réglementation de ces deux pays est très différente, notamment concernant les survols de zones urbaines. Il y avait urgence à proposer une version traduite en anglais de la notice destinée aux pilotes de drones de loisirs.
C'est désormais chose faite !
Elle est désormais disponible sur le site de ministère du développement durable, et nous sommes fiers d'avoir participé à sa mise en place ! Il ne reste plus qu'à la faire connaître, espérons pour cela que les principaux aéroports français l'afficheront à la sortie des vols internationaux. Ca ne coûte pas grand-chose, et ce serait un excellent outil d'information.
Merci à Muriel Preux, directrice de programme drones à la DGAC-MALGH, pour sa réactivité, et merci à Adriel Perkins pour son aide !
English version here!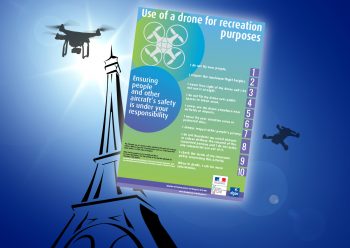 So you want to bring your multirotor in France to catch breathtaking views of the Eiffel Tower, the Champs-Elysées, Notre-Dame cathedral or the Mont St-Michel? Think twice. Flying in urban areas is strictly forbidden! This means you are not allowed to fly in Paris – and Paris is under heavy surveillance because of the recent tragic terrorists attacks. Paris isn't the only no fly zone though, smaller towns are also concerned. Thus, you're not allowed to fly over Notre-Dame, the Sacré-Coeur, the Eiffel Tower, the Arc de Triomphe – not even a selfie in front of the Louvre Museum. You also have to restrain from flying over the south beaches next to Nice and Cannes, this is public space in urban areas, and it's forbidden. The Mont St Michel is a no fly zone as it's an historical place. Don't fly in National Parks such as le Mercantour or the natural reserves.
Put Simply…
Never fly in cities or towns, even small ones, never fly close to historical monuments, never fly over people, never fly close to airfields, never fly close to military compounds. So where can you fly? Where there's nobody around. You may have seen hundred of videos shots in French towns. Keep in mind police officers are now aware of the French laws about drones, and they do intervene if they see something wrong or if they get complaints. The maximum penalty is a fine of 75,000 euros and 1 year of prison – the actual fine is usually around 2,000 euros and you'll get your drone confiscated. The sentencing and fines people get will likely become even more strict in the coming days.
An official document!
DGAC, the French equivalent of the FAA, has released a notice to recreational pilots (click here), which has been recently translated in English – we at Helicomicro have helped! This is a 2 pages document. The first page is the summary of the document while the second page goes more in depth… We hope you have an amazing stay in France if you come to visit!
Thanks to Muriel Preux, RPAS Program manager, DGAC-MALGH, and Adriel Perkins for his help!